WWE star Baron Corbin recently shared his thoughts on facing WWE Hall of Famer Kurt Angle in his retirement match at WrestleMania 35, despite 'The Olympic Gold Medalist' wanting to face John Cena instead of him.
Baron Corbin says why Kurt Angle did not want him in his farewell match
Baron Corbin recently joined in for an interview with TalkSport, and he stated why Angle would have wanted to face Cena in his farewell match. It is to be noted that John Cena had made his huge main roster debut against Angle on June 27, 2002, on an episode of SmackDown.
This is the reason why Angle wanted to retire after a match against the 16-time World Champion. Cena had even inducted Angle into the WWE Hall of Fame.
Corbin said that the history between Cena and Angle would have been apt for the two legends to have a match at WrestleMania. 'The Lone Wolf' further stated that having the last match against someone like Angle or Cena is 'phenomenal'.
"Yeah, everyone is going to have a dream match for their final match and I can't ever imagine Kurt Angle was like 'I want to wrestle Baron Corbin for my last match in WWE!' He had history, he was Cena's first match in WWE and I understand that completely. Who wouldn't want to go out wrestling John Cena as their last match? It's a phenomenal thing to do if you're in the ring with him or Kurt – doesn't matter," said Baron Corbin.
It was Baron Corbin who emerged victorious that night as Kurt Angle competed in his Farewell Match at 'The Grandest Stage of Them All'.
You can check out the match below:
Kurt Angle had previously revealed that he had expressed his desire to face former nemesis, John Cena, as that would have concluded their storyline which had started long back when Cena had made his debut.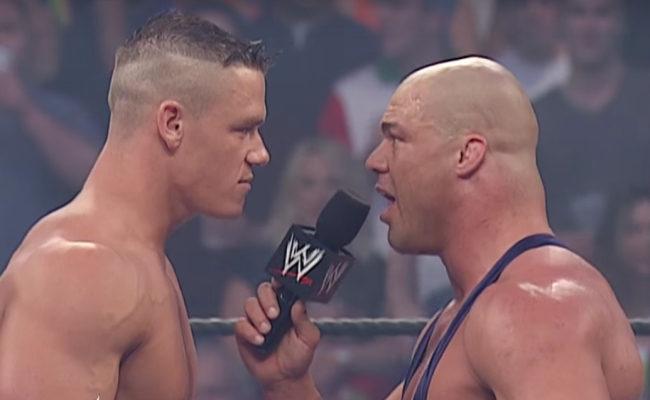 "I wanted it to be my retirement match, and I'd loved to have wrestled John because you know I started out his career, and I wanted him to end mine, and you know, I was hoping that he would put me in that match, but it just didn't happen," said the WWE Hall of Famer.
Angle had also revealed that though he did not reach out to Cena, he had pitched the idea to WWE Chairman Vince McMahon but that did not materialize, eventually Corbin being named his final opponent.