Gabriel Magalhaes may soon be moving to the hallowed Arsenal dressing room and being true to their nature, the Gunner fans have been tracking every little detail of his life for potential clues.
Gabriel Magalhaes has become one of the most talked-about names of the summer transfer window—yet most of us know little about him. The former Lille star has been on the wish list of Mikel Arteta for a long time and now that his move to Emirates is a reality, the fans are beside themselves in trying to track the defender's every movement.
This is not the first time that Gunners have gone to great lengths on tracking a potential transfer with the likes of Ozil and Aubameyang also going through the same level of scrutiny.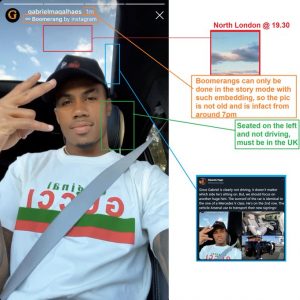 The Arsenal Sherlocks-
Gabriel Magalhaes has reportedly arrived in London for his medical with the Gunners and fans have been bombarding his social media accounts with speculations surrounding the entire transfer saga.
Gabriel Magalhães to Arsenal, here we go! Total agreement just completed: he will fly on Monday to London to sign his contract until June 2025, €30M to Lille (add ons included), official statement on next week. The deal is finally done. ⚪️🔴 #AFC #Arsenal #transfers

— Fabrizio Romano (@FabrizioRomano) August 22, 2020
The fans have been looking at every minor aspect of his life, from his car to his location to his posting a boomerang on Instagram.
One user @arnie1886 in particular has gone to the next level with his sleuthing skills to point out that the Brazilian was indeed in London yesterday.
— Arnie 🥥🧪 (@arnie1886) August 21, 2020
He's sitting on the right, because the image is flipped. But that doesn't mean he's driving, so he must be the passenger in the middle row. With the guy in the back as the '7th seat' passenger

— Denis Bytyqi (@afcbytyqi) August 21, 2020
@johannn0507 explained his apparent position in the Arsenal car.
Reckon hes seating in v class, the car arsenal uses to bring players to the training center such as pepe,Tierney. If it is he might be sitting here pic.twitter.com/OkhUzMQtu1

— Cruyffian (@johannn0507) August 21, 2020
@realadammcohen took to google street view to explain that the Brazilian was indeed at Arsenal training ground.
If we look at the google street view of the main entrance to Arsenal's training centre (taken in 2017) we can see:
1) the road turns right
2) to the right of the road (if someone was leaving) are trees with fields behind them (red)
3) a distinctive fir tree (yellow) pic.twitter.com/3ayp8AXIXZ

— Adam Cohen (@realadammcohen) August 21, 2020
We also know that the video is flipped (as Instagram does). From the movement of the sky we can tell that the car is turning right. If we look out his window we can see broken trees with nothing behind them and through the top window they are moving away from a fir tree 2/

— Adam Cohen (@realadammcohen) August 21, 2020
Guys, I have a theory that Gabriel's instagram story was taken at the training ground. Thanks to a bunch of people on this thread https://t.co/BlIcM3pIUU we can be pretty sure that he was in the rear right seat of a Mercedes V class. 1/

— Adam Cohen (@realadammcohen) August 21, 2020
The entire transfer saga had turned into a high profile tussle between Manchester United and Arsenal, with Mikel Arteta's side finally coming triumphant.
The entire episode is not hidden from Magalhaes himself whose social media handles are being bombarded by messages from thousands of fans from the two English clubs.
Also read:https://www.thesportsroom.org/romelu-lukaku-10-year-drought-silverware/
"I am happy to see my name being linked with great teams. It shows that the work I've done so far has been good," said Gabriel Magalhaes.
"I also see many fans of the two teams commenting on my posts on Instagram [laughs]. It's funny."He added.
Mikel Arteta's wish list-
The Arsenal manager would look to rebuild what is an extremely depleted squad, after a harrowing campaign in which the Gunners finished eighth in the Premier League.
With Gabriel and Willian already having joined the ranks, Arteta would now turn his attention to Phillipe Coutinho, whose loan spell at Bayern Munich is soon to end.
Lyon midfielder Houssem Aouar too has expressed his admiration for the North London club and his addition would definitely bring a breath of fresh air to Arsenal's depleting midfield. Arsenal has also joined Liverpool in the hunt to sign Bayern Munich midfielder Thiago Alcantara, according to the Daily Mail.
The Gunners finally seem to have a manager who looks keen to put the club back among the elites of the Premier League and the enthusiasm of fans as well as the backing of the board does bode well for the out of favor club.
If you like reading about MMA, make sure you check out MMAIndia.com
Also, follow India's biggest arm wrestling tournament at ProPanja.com
Also read:
Sneaky trespassers-Sevilla fans enter the stadium dressed as officials in Europa League Final