All Elite Wrestling's FTR, who were formerly known as The Revival, recently appeared on the WrestlingInc podcast. Amongst other topics, they thoroughly discussed their evolution alongside the Black Lives Matter movement.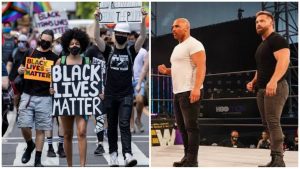 Dax Harwood and Cash Wheeler, who changed their name from The Revival to FTR, the meaning of which changes with time, were embarrassed to be ignorant of the movement and its history at first, and then started understanding and supporting the movement.
"I hope that it goes beyond pro wrestling. Obviously, I hope that it encompasses pro wrestling but it was something I felt really strongly about because I don't think I was educated enough to understand it up until this point. Both Cash and myself felt really bad that we, not consciously, but subconsciously," said Dax, before Cash joined in to say "we were ignorant."
Dax went to say that if their 'fans' are being offended by the movement, he does not want them to be their fans. Dax went on to explain the equality of humanity based on his religious belief.
"Yeah, very, very ignorant. I had a lot of talks with my wife and she helped put this together. I feel that people who are taking offense to the Black Lives Matter movement, I don't want them to be fans of ours if they're taking offense. There is nothing to be offended about. Something needs to change and something needs to happen. I've speaking from the heart but we are all created by God and he made us in His image. It doesn't matter what color He painted us. He made us in His image and He wants all of us to be equal and it's time for everybody to be equal," Dax said.
FTR HAS WENT ON TO DONATE FOR THE MOVEMENT
"So, Cash and myself decided to step up. We raised $4,000 on eBay and then we donated $4,000 of our own money to Nex Millen here in Asheville, North Carolina. He hosts a studio for the youth of Asheville to come in and he teaches them how to play instruments. It's called Organic Synergy and he gives them the opportunity to sing and rap and keep them off the streets. His business was affected by COVID so we've taken that money and donated it to him," Dax said.
"It's no secret that Dax and myself come from small towns in a southern state," replied Cash. "North Carolina, obviously, has a history that you can't always be proud of because of things like this. I credit my family because I was never taught to hate and Dax wasn't either. But I also was never taught to understand fully what our friends go through just because of the color of their skin. I had so many friends growing up that I didn't care what color they were as I loved them all equally. But the older I get, the more hurt I see them go through and the more I understand their struggle. I'm able to look at it through eyes that I've never really seen it before," Cash added.
FTR has been an important part of AEW since their surprise debut. FTR have been in a friend/enemy rivalry with fellow tag team The Young Bucks. FTR were also responsible for pouring beer on Kenny Omega on last week's Dynamite, which led him to show heelish tendencies later in the show. Dax Harwood of FTR has already been seen by fans and experts as one of the highlights of the last two episodes of Dynamite.
If you like reading about MMA, make sure you check out MMAIndia.com
Also follow India's biggest arm wrestling tournament at ProPanja.com
Salah's Touch: Study shows hate crime in Liverpool has dipped after Salah's arrival