The Grand Theft Auto franchise's huge success on PC and consoles in the last two decades made it one of the most popular series of all time. Now, the fans of the series can also enjoy a number of titles on their mobile phones. Be it the well known titles such as Vice City and San Andreas, or the spin off entries like Vice City stories Chinatown Wars, gamers can now try them anywhere, anytime.
However, if someone is looking to try something new other than the good old Los Santos or Vice City maps, there a number of game available on iOS and Android devices, that provide a very similar experience to the famed action adventure series, and the cherry on top is, some of them are completely free to play!
READ ALSO: This is how visually appealing Grand Theft Auto 6 can possibly be!
Five best games similar to Grand Theft Auto to try out on mobile-
1.

Gangstar: New Orleans
The famous Gangstar series of games by Gameloft thrive on the same DNA of Grand Theft Auto games, explore around, complete missions and purchase property and vehicles to your own desire. Released in 2017, Gangstar: New Orleans is set in the US city of the same moniker. The game has tons of missions, a huge selections of guns, and has very impressive graphics for a mobile game.
2. Rope Hero: Vice Town
Although it is a superhero game, the huge popularity of Rope Hero: Vice Town on mobile makes it a fine alternative of the Grand Theft Auto saga. Released by Naxeex LLC, the main character has a number of superpowers, and fret not, there are tons of vehicles, tanks, helicopters, planes, as well as a vast Arsenal at your disposal.
3. Real Gangster Crime 2
Being a gangster is the core of the gameplay of Real Gangster Crime 2 by Good Thoughts Affect. Set in a huge explorable map similar to Grand Theft Auto games, you assume he role of an unnamed protagonist, and can take on missions from NPCs and earn money. Many cars, bikes and other vehicles are available to buy or steal. Fight with pedestrians and steal their money, or take down mission bosses with different weapons.
4. Grand Gangsters 3D
Going back to the core idea of stealing vehicles, this Grand Theft Auto inspired title by Doodle Mobile Ltd gives you six vehicle theft missions to complete. The cars are needed to be lockpicked to steal, followed by a gripping police chase. The map has four different sections to explore or hide from the cops.
5. Go To Town 5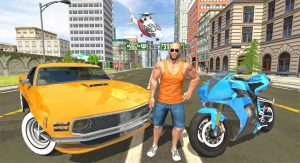 Go To Town 5 brings back a number of role playing game elements from the good old San Andreas, such as lifting and a vast selection of clothes to build your character and play missions. Published by Biceps, the game lets you drive cars, motorcycles, helicopters and even ships. The map is beautiful with the presence of busy streets and a beautiful beach.
If you like reading about MMA, make sure you check out MMAIndia.com
Also follow India's biggest arm wrestling tournament at ProPanja.com
Valorant's anti-cheat system to be made better by the help of hackers!
https://www.thesportsroom.org/bruno-fernandes-dive-solskjaer-defends/