It has been a massive jolt to the Olympic medal hopes of the United States of America as track and field sprinting icon Sha'Carri Richardson has been left out of the country's 4×100 relay team alongside her suspension from the 100m event as well.
A regular in the 100m and 200m categories, Sha'Carri Richardson earned her Tokyo Olympics berth after clocking a time of 10.86 seconds in the 100m dash event at the recently concluded United States Olympic Trials back in late June.
Sha'Carri Richardson excluded out of USTAF's 130-person roster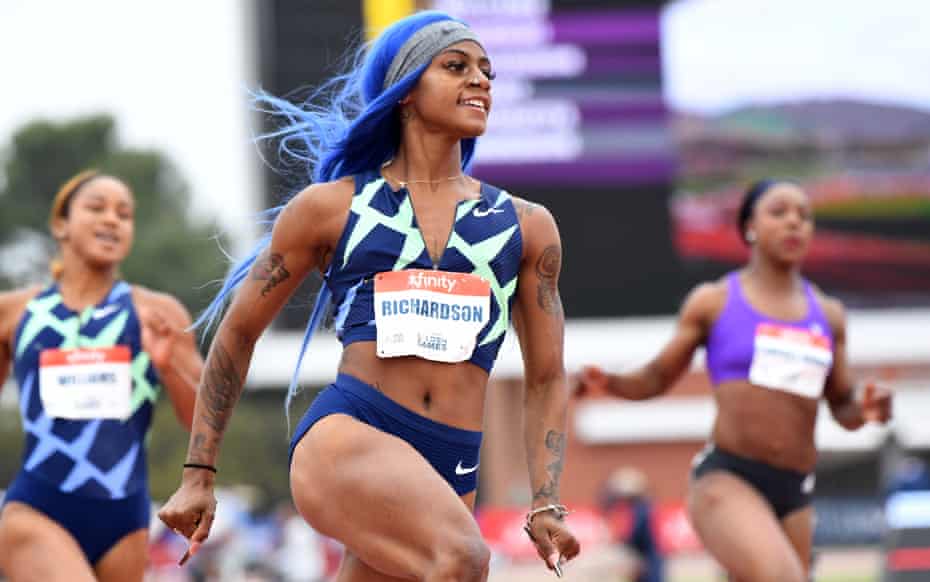 Last week, it was reported that Richardson had failed a drug test and was subjected to a 30-day suspension after testing positive for marijuana. At that time, the Olympics was only 20 days away which essentially meant the 21-year-old's individual 100m dash dream was pretty much turned to dust.
However, there was still some chance that Richardson would receive the green light to be a part of the 4×100 relay team representing the country at the Japanese capital later this month, as her suspension would have terminated before the relay events kick off from 5th August onwards.
Unfortunately, as it turns out, Richardson's name has not been inducted in the 130-person roster USATF sent out, meaning the medal hopeful sprinter will not be boarding the flight to Tokyo.
"The attention that is on track now and was because of very very few names. So if that's where fans support lay, you can't be mad at that," tweeted Richardson, who revealed to NBC last week that she had used marijuana to cope with the death of her mother.
Richardson's suspension has not been a result of steroid use, and in an official statement, the USTAF expressed that they are "incredibly sympathetic toward Sha'Carri Richardson's extenuating circumstances" and "fully agrees" that the United States Anti-Doping Agency (USADA)'s regulations regarding marijuana need to be reconsidered.
As per the World Anti-Doping Agency (WADA)'s prohibited substance list, all natural and synthetic cannabinoids (except cannabidiol) are banned during all competitions.
Nevertheless, the USTAF insisted that they will maintain a 'fair play' for the clean athletes.
"So while our heartfelt understanding lies with Sha'Carri, we must also maintain fairness for all of the athletes who attempted to realize their dreams by securing a place on the U.S. Olympic Track & Field Team," the statement added.