Last year, Jake Paul and Logan Paul- the two siblings broke into the combat sports scene like two meteorites, bringing with them their massive social media fanbase. Contrary to the likeness of many seasoned followers of the sport, the brothers quickly became two top attractions in boxing- while Jake continued his career as a professional boxer, Logan achieved something which no one saw coming- an exhibition bout against none other than the legendary Floyd Mayweather. And now, the older brother has pulled off another stunner- teaming up with Arnold Schwarzenegger to host the 2022 Slap Fighting Championship.
2022 Slap Fighting Championship to be a part of Arnold Sports Festival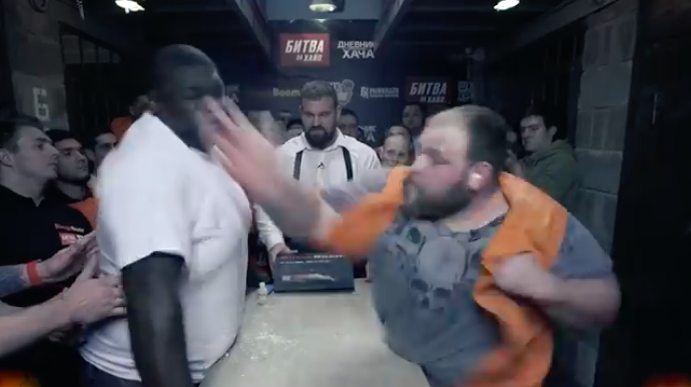 While many sports fans are not aware of it, slap fighting is a sport that has huge popularity among its followers and in recent times, have gained much popularity on the internet. Slap fighters such as Vasily 'The Dumpling' Kamotskiy, Dawid "Zales" Zalewski, Zuluzinho, Koa Viernes aka "Da Crazy Hawaiian" is hugely popular among many others.
And now, Logan Paul and Arnold Schwarzenegger- two who come from vastly different backgrounds, are joining hands to launch the 'Slap Fighting Championship', set to take place this 5th March in Columbus, Ohio, as part of the upcoming Arnold Sports Festival.
Fans will not be disappointed: Logan Paul, Arnold Schwarzenegger assure a grand slapping contest
Schwarzenegger- the bodybuilding legend and Hollywood icon, expressed his excitement about partnering up with Logan to host the 2022 Championship, which will see three-time PunchDown champion Dawid "Zales" Zalewski taking on Koa "Da Crazy Hawaiian" Viernes for the super heavyweight title in the main event. The event will also see Maksymilian "Mad Max" Lesniakgoing taking on Nikolas "Predator" Toth, as well as Adrianna "Flychanelle" Sledz facing off Julia Kruzer.
Prepare to watch some serious slaps March 5th with Arnold and Logan Paul live and free on Logan's YouTube and on Fanmio.

Live stream links below:https://t.co/W4cumeS1rb https://t.co/v6DkwzOFJKhttps://t.co/0MjkM4nhr3

DON'T MISS IT!!!!#SFC #SlapFightingChampionship #Asf2022 pic.twitter.com/Yar7DhiYXN

— Arnold Sports Festival (@ArnoldSports) February 22, 2022
"The Arnold Sports Festival is all about inspiring our fans to chase their dreams and find the sport that starts their fitness journey," said the five-time Mr Universe winner, "I can't wait to showcase the best slap fighters in the world on the main stage at our event and I'm so excited to introduce this wild sport to our fans with Logan."
"As someone who always seeks to be at the forefront of any new discovery, it is a thrill to see slap fighting get legitimized in the world of sport," Logan said, "It is an honour to present these combat athletes to a global audience alongside Arnold Schwarzenegger, Fanmio and PunchDown. Fans will not be disappointed!" [H/T Mirror.co.uk]
Highlights:
Logan Paul and Arnold Schwarzenegger teaming up to host the 2022 Slap Fighting Championship as part of the upcoming Arnold Sports Festival on 5th March
The main event will see three-time PunchDown champion Dawid "Zales" Zalewski taking on Koa "Da Crazy Hawaiian" Viernes for the super heavyweight title