The former WWE Hall of Famer Donald Trump, who is the former President of the United States is set to provide guest commentary for the Evander Holyfield vs. Vitor Belfort fight this Saturday on pay-per-view on FITE. 
Donald Trump will be seen in the commentary role with Todd Grisham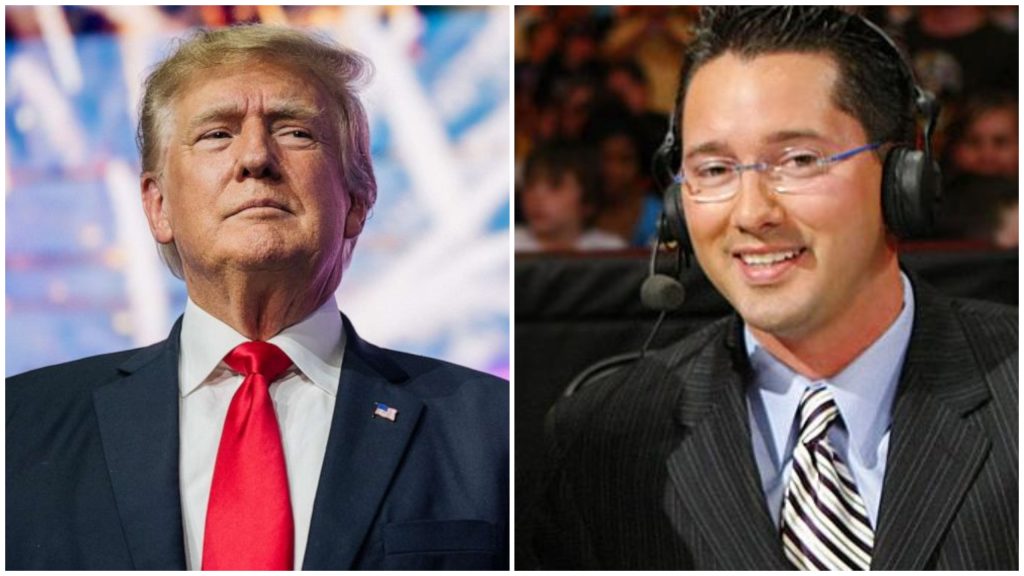 The event is set to see three broadcast options — English, Spanish, and a third option that will feature Trump, UFC star Jorge Masvidal, and former WWE commentator Todd Grisham. It has been noted that viewers will be able to switch between the broadcasts from the device in which the show was purchased.
"I love great fighters and great fights," said Trump. "I look forward to seeing both this Saturday night and sharing my thoughts ringside. You won't want to miss this special event."
The card was moved to the Hard Rock Hotel and Casino in Florida after the California State Athletic Commission refused to approve the fight due to Holyfield's age. The former cruiserweight and heavyweight champion will turn 59 in October and he has not fought since 2011. His fight with Belfort is slated to be eight two-minute rounds.
Donald Trump was the honored guest at the final press conference for the event on September 9th, at the Fort Lauderdale Marriott Harbor Beach Resort and Spa. Donald Trump welcomed the fighters via satellite and answered questions from the media about his appearance this Saturday. Trump's son, Donald Trump Jr., was also present in person at the press conference.
He was asked if he had to fight someone on Saturday night, who would it be and what would the result be, Trump said: "If I had to pick somebody in the world, not only a professional boxer because I will take a pass at the professional boxer as that could be a dangerous subject. If you said if I had to box somebody, I think my easiest fight would be Joe Biden. I think he'd go down very, very quickly." Biden was the man to beat Trump in the US Presidential elections last November.
In addition to Holyfield vs. Belfort, the show features Anderson Silva vs. Tito Ortiz in a professional boxing bout, David Haye making his professional comeback against Joe Fournier, and Andy Vences vs Jono Carroll. The event is available at TrillerFightClub.com, FITE or on local cable/satellite and iNDEMAND partners throughout the USA and Canada.