The soft-drink brand Coca-Cola has suffered a major blow in terms of their valuation after Ronaldo's gesture at the ongoing Euro 2020. The company has reportedly lost over 4 billion dollars in market value as Ronaldo urged people to drink water instead.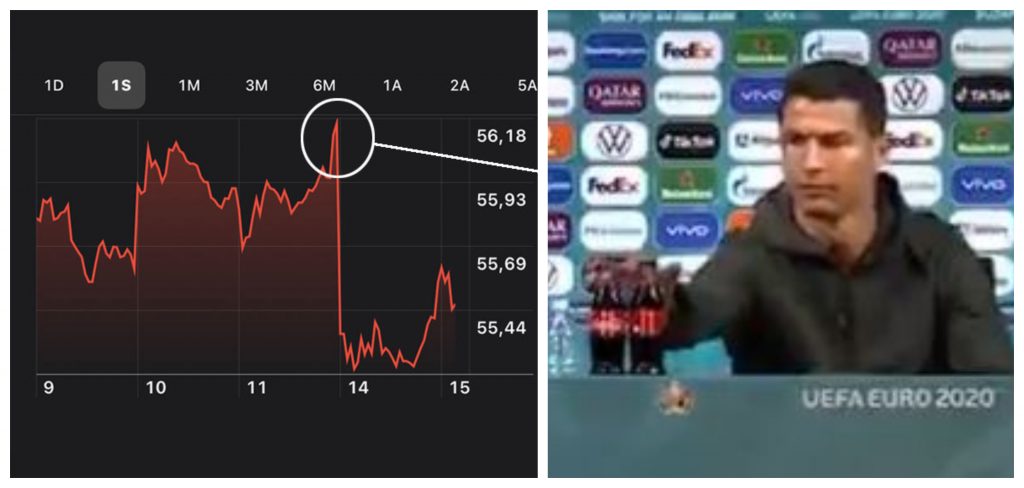 The Portuguese skipper was on call for his press conference and removed the two bottles of Coca-Cola kept in front of him. Being sponsors of the tournament, it is customary to keep the brand in front of the camera.
Coca-Cola are the official non-alcoholic beverage sponsor after having signed a deal with UEFA in 2019.
However, Ronaldo proceeded to pick up a bottle of water instead and urged people to avoid the cold drink. This little action has sent shockwaves through the company, which, as a result, are facing massive losses now.
It is being reported that the firm's stock price dropped 1.6 percent aftermath the incident. Subsequently, the valuation of the company has now changed from $242 billion to $238 billion – a loss of $4 billion.
"Occasionally my son drinks Coca-Cola or Fanta and eats crisps and he knows I don't like that," Ronaldo had commented in the past
Ronaldo's penchant for fitness is well renowned. The ability to excel at the age of 36 comes at a price, which involves avoiding sugary substances like cold drinks.
He had apparently stunned the Juventus medical staff during his medicals after his move from Real Madrid.
While making the move to the Serie A club, he was 33 years old and the test results showed that his physical attributes mirrored that of a young footballer. The Portuguese International only had seven percent body fat in his body, which is reportedly three percent when compared to his peers.
Coca-Cola issued a response after Ronaldo's gesture
Prior to the incident, shares of Coco-Cola were being issued at a price of $56.1. The price plummeted to $55.2, by the time the press conference ended.
"Everyone is entitled to their drink preferences" and that everyone has different "tastes and needs".
A spokesperson added: "Players are offered water, alongside Coca-Cola and Coca-Cola Zero Sugar, on arrival at our press conferences."
After Ronaldo, France's Paul Pogba has caused a stir in the beverage world by removing a Heineken beer bottle kept in front of him during a press conference.
Also Read: