Canelo Alvarez (57-1-2, 39 KOs)  has finally achieved what he was always destined to become- the undisputed super middleweight champion of the world and the Mexican boxing maestro did the same within the span of a year- starting from his win over Callum Smith last December to his victory over Caleb Plant, which has earned Canelo all four major titles at 168- the WBC, WBA (Super), WBO and IBF belts. But what is next for the grand champion? According to Showtime President Stephen Espinoza, Canelo's team has hinted at a potential fight against former WBC super middleweight champion David Benavidez or the reigning WBC titleholder Jermall Charlo.
Coming off of the wins over Callum Smith, Avni Yıldırım and Billy Joe Saunders, Canelo was the clear favourite to win his bout against Plant, which took place on 6th November at the MGM Grand Garden Arena in Las Vegas and saw Canelo adding the IBF belt to his collection with an 11th round TKO victory.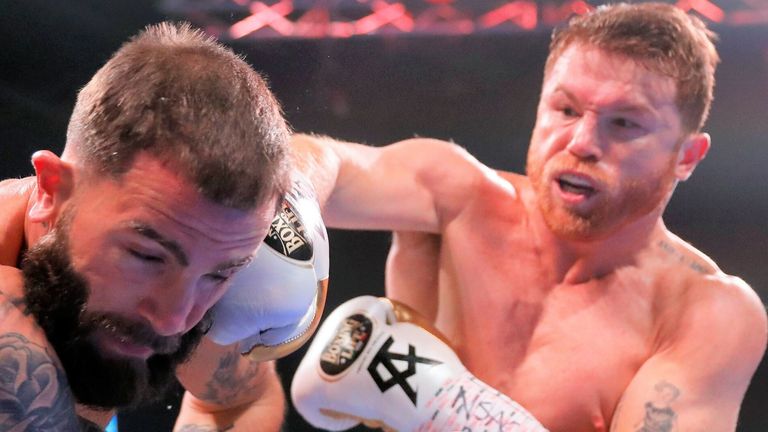 Canelo Alvarez can remain at super-middleweight to face Benavidez, or switch to middleweight to take on WBC champion Charlo
While Canelo Alvarez himself has expressed the desire to remain as the undisputed champ at 168 for the years to come, speculations have been there as to who the Mexican might square off up next.
As Stephen Espinoza, Showtime President of Sports, revealed to ESNEWS about Canelo's next fight, Canelo's team has shown interest in putting their world champion against the undefeated super-middleweight star Benavidez, while the other option for the team will see Canelo return to middleweight and take on WBC champion Jermall Charlo.
"For my money, the two most interesting fights for Canelo next are Jermall Charlo and David Benavidez or David Benavidez and Jermall Charlo," said Espinoza, "We've certainly mentioned those to Team Canelo, and there is interest. We've seen this year that Canelo has stayed busy. I would expect that he'll roll into his next fight pretty quickly.
On detailing his experience in working with Canelo, the Showtime Prez said, "It's been great. He's been around, his team is experienced, and they know what they want. That's the biggest difference."
"They've done a lot of big events and done business with a lot of different people. They know what they want, and that makes it a lot easier for us when we present them with options, or they tell us a vision for n event. So it's been great, and at this point in his career, Canelo deserves the opportunity to determine his events. The team is experienced, and we love collaborating with them," Espinoza added. [H/T Boxing News 24]
Highlights:
Showtime President of Sports Stephen Espinoza claims Canelo Alvarez's team is interested in David Benavidez or Jermall Charlo as his next opponent
Canelo Alvarez recently became the undisputed super-middleweight world champion with an 11th round TKO win over Caleb Plant last Saturday in Las Vegas