The NHL just finished their All-Star break and are getting into gear as the season begins to wind down a bit, so today, we will discuss a prestigious award: The NHL Hart Memorial Trophy. 
For those of you not in hockey circles, this is their version of an MVP award as it is given "to the player adjudged to be the most valuable to his team" and selected by the Professional Hockey Writers' Association. Today we will dive into some of the favorites and figure out who we think will win the award. 
You are going to see some of the best sports betting picks coming in around now as some sports are beginning to wind down their season and get into postseasons, so be aware. These odds are provided by Bovada, so depending on which sportsbook you use and when you look at the odds, the numbers could differ a bit. 
Connor McDavid (+175)
The reigning winner is also the betting favorite to win the award for a second consecutive time. He is currently tied for the NHL lead with 68 points this season and was tied for eighth in goals (25) and is tied for second in assists (43). He has won the award twice already and is arguably the greatest player in the NHL today, so it could be interesting to see if there is any voter fatigue that begins to kick in. 
He has been somewhat of a video game character come to life as he is averaging 1.43 points per game and 26 power play points, which both are tied for the league lead. McDavid is definitely making a case that he should win once again as he is competing against the rest of the league (and his own team) to make sure the award stays with him.  
Alex Ovechkin (+300)
The first overall pick in the 2004 NHL Draft has the second-best odds to bring home this trophy, but I do not understand looking at the statistics. Looking at his numbers this season, Ovechkin is tied for fifth in the league with 62 points while being fourth in the NHL with 31 goals and 31 assists. No statistic has Ovechkin in the top three players this season outside of being tied with Kyle Connor for the lead with 22 even-strength goals and is leading the sport with 225 total shot attempts.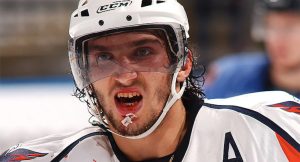 He is a big name and probably had a lot of buzz during the preseason and earlier in the season, so I would avoid even a flier on Ovechkin as I do not see a scenario where he can take the top spot and dominate to the point where he can capture the Hart Trophy by the end of the regular season. 
Leon Draisaitl (+600)
This is the player I would throw some money on as Connor McDavid has some competition on his team, with center Leon Draisaitl having the third-best odds as of right now. Draisaitl has been one of the biggest players right now as he is tied for the NHL lead with 68 points, leading the league with 35 goals and tied for 14th in the sport with 33 assists this season.
 Draisaitl has been dominant when on the power play as he is tied with McDavid for 26 power play points. However, the biggest number is the fact that he has scored nine game-winning goals this season thus far, and no other player has hit more than seven. This feels like a friendly competition that will be going on between teammates for the Hart Trophy. 
Conclusion
This seems to be a two-man race this season between McDavid and Draisaitl as they are dominating this season. I would give a slight edge to Leon Draisaitl as the value is there, but he also has 10 more goals, and I believe that will be a factor. All in all, sprinkle on some of the Oilers as one of them will win this award yet again.