WBC lightweight champion of the world Devin Haney aims to reach the top of the boxing hierarchy and is confident to achieve the same without necessarily having a fight with Teófimo López.
The current WBA (Super), WBO, and IBF titleholder, López is also the WBC's franchise champion, while Haney holds the green and gold belt, along with Ryan García being its interim champion.
A unification fight between Devin Haney and Teófimo López will determine the undisputed champion at 135, but the latter made it clear that Haney must cross the hurdle of WBA interim lightweight champion Rolando Romero before he can have his shot at López for the undisputed championship.
Haney on the other hand makes it clear that his rise to fame will come naturally and a sparring contest with López, in particular, is something he believes is not necessary at all.
Devin Haney needs the belts more than he needs Teófimo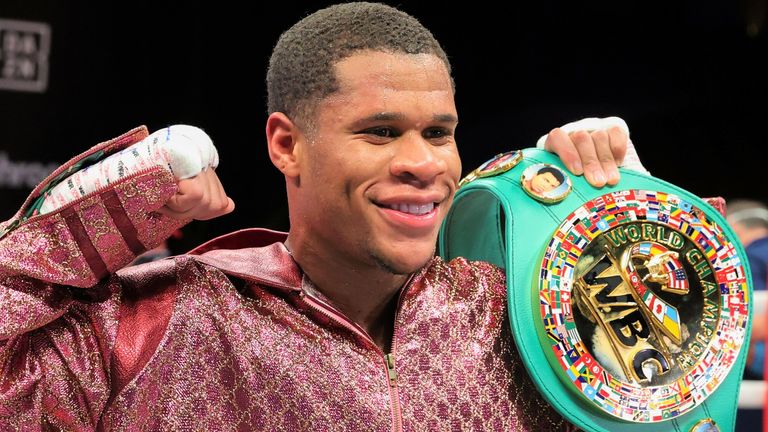 In a recent interview with Behind The Gloves, Devin Haney termed the comment from Teófimo López calling him to face Romero 'ridiculous'.
"López said I have to fight Rolly (Romero) to get him when I don't need Teofimo to become a star. Teofimo is not someone that I need," Haney said in the interview.
I still make more money than fighting Teofimo Lopez," the 22-year-old went on, "for him to say that I have to go through Rolly to get to you is ridiculous. I don't really need you, Teofimo,"
A former WBC International and WBO Inter-Continental champion, Devin Haney won his WBC belt back in September 2019 with a 4th round win over Zaur Abdullaev. Since then, he has had two title defenses, first in November 2019 against Alfredo Santiago and the second a year later versus Yuriorkis Gamboa, which was also his last in-ring appearance.
"The Dream" sure dreams for all the belts in the division, but his focus remains on keeping his undefeated record clean and turn out victories into the future.
"My main focus is to keep winning and collect all of the belts in my division," Haney acknowledged, "fame will come, the money will come in good time. I want belts more than anything."
Haney also claimed that López, Gervonta Davis and Ryan García all are trying to avoid a fight with him.
"You guys (López, Davis, García) only have a matter of time to keep ducking me. Pretty soon you guys are going to be cornered and you'll have to fight me. So be prepared because pretty soon you'll be facing me," Haney added. (H/T BoxingScene)
Teófimo López meanwhile is setting up for his IBF title defense against George Kambosos Jr, which went to Triller Fight Club after it outbid López's promoter Top Rank.