Nurmagomedov and Mayweather are two of the biggest names in combat sports history and are synonymous in their legendary status and contribution to their respective disciplines. However, Usman Nurmagomedov, Bellator fighter and cousin of Khabib, believes that their family's legacy in mixed martial arts outshines that of the Mayweathes' in boxing.
I believe we're even better than the Mayweathers: Usman Nurmagomedov 
The current generation of MMA had been stupefied by the approach of Khabib Nurmagomedov into the top strata, the Russian Combat Sambo World Champion who blew away all competition in the sport's top dog- the UFC, eventually becoming the promotion's Lightweight champion and retiring with an untamed 29-0 record.
Even though "The Eagle" has called it a career, Usman, Abubakar, and Umar are all destined to carry forward the Nurmagomedov legacy. Both Abubakar and Uman currently compete in the welterweight and bantamweight divisions in the UFC respectively, while Usman has found his place as a Bellator MMA lightweight contender.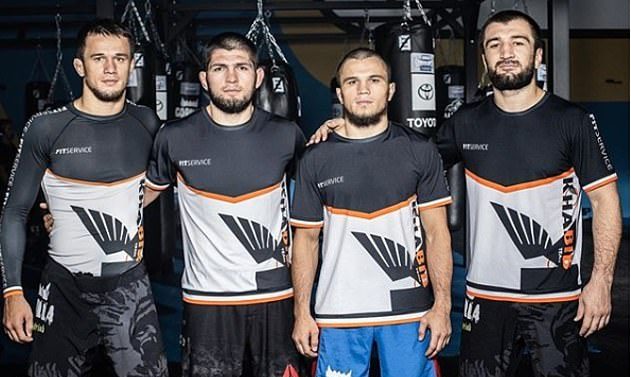 When it comes to boxing, the Mayweather heritage started further back, with Jeff, Roger as well as Floyd Sr who competed in the topmost level but it was until Floyd Jr, who solidified the Mayweather name in the Boxing Hall of Fame, having been world champion fifteen times across five weight classes and retiring with an immaculate 50-0 professional record.
The stature of both the Nurmagomedov and Mayweather families in combat sports remains unquestioned, but according to Usman, they have accomplished more than their counterparts in boxing.
"I believe we're even better than the Mayweathers. We've got a better record and I believe the caliber of me and [my family members] is higher than the Mayweathers," Usman told Insider, "But I can see why you would compare us."
With his submission victory over Chris Gonzalez at Bellator 283, Usman now sits at an undefeated 15-0 record, edging closer to his cousin Khabib. While destined to carry forward the Nurmagomedov legacy, Usman says there's no pressure.
"My family name, it isn't pressure," Usman told Sports Illustrated via a translator, "Khabib's always in my corner. I feel good when he's there. It's motivation. With my family, I have the strongest corner in the sport. I have to represent our family on the highest level. That is what I plan to do."